Etunojapunnerrus yhdellä kädellä korokkeella
1. Asetu polville ja aseta toinen käsi penkin päälle hartioiden kohdalle ja toinen viereen lattialle, sormet eteenpäin. Nouse nyt päkiöiden varaan. Katso, että vartalosi on suora eikä lantiosi ole huomattavasti korkeammalla tai tipahtaneena. Sivulta katsottuna vartalosi pitäisi olla lähes suorassa linjassa polvista niskaan.
2. Lähde nyt laskeutumaan alas siten, että kyynärpäät työntyvät takaviistoon, ja vie rintakehä mahdollisimman alas. Pidä keskivartalo tiukkana äläkä päästä lantiota tippumaan.
3. Työnnä nyt kädet takaisin suoriksi ja toista tarvittava määrä yhdelle puolelle ennen vaihtoa. 
*Hengitä ulos työnnön aikana
*Pyri pitämään vartalo sivulta katsottuna suorana koko liikkeen ajan. Älä siis päästä lantiota alas, mutta älä myöskään työnnä lantiota ylös.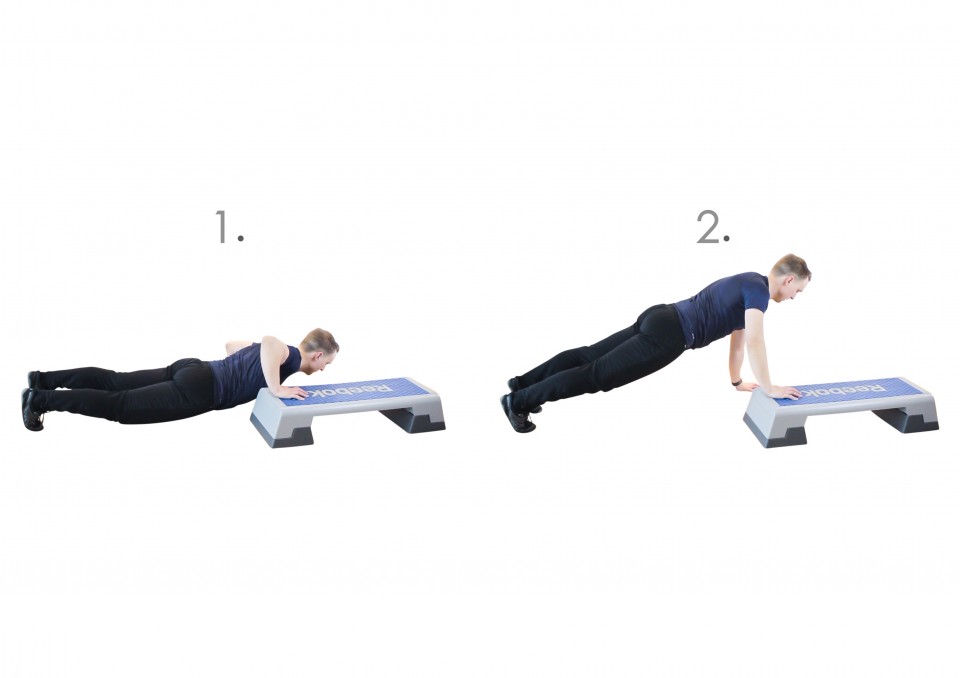 SYKE for trainers
SYKE helps coaches produce effective, high-quality and diverse coaching content, whether it is individual training programs or multidimensional online coaching.
SYKE for consumers
There's no training program or coach that is perfect for everyone. In the constantly changing trends and fads, we want to help you find the way that suits YOU best.