• Asetu selkäpenkkiin ja kannattele itseäsi yläasennossa lattiansuuntaisesti koko suorituksen ajan, muista niskan neutraali asento ja pidä katse lattiassa.
• Aloita viemällä kädet lähes suorana eteen, peukalot kattoa kohti osoittaen. Vedä samalla lapoja yhteen.
•Vie tämän jälkeen kädet suorina sivuille, peukalot kohti kattoa osoittaen. Tuo kyynärpäät 90 asteen kulmaan koukkuun ja tee kevyt ulkokierto loi- tonnusasennossa.
Jatka vielä lopuksi liikettä viemällä kädet vartalon suuntaisesti suoraksi, kämmenpohjat kattoa kohti osoittaen. Keskity puristamaan lapoja yhteen.
Pidä jokaista asentovaihetta n. 3–5 sekuntia jatkuvasti lapaluita yhteen puristaen ja selkä lattiansuuntaisena pysyen.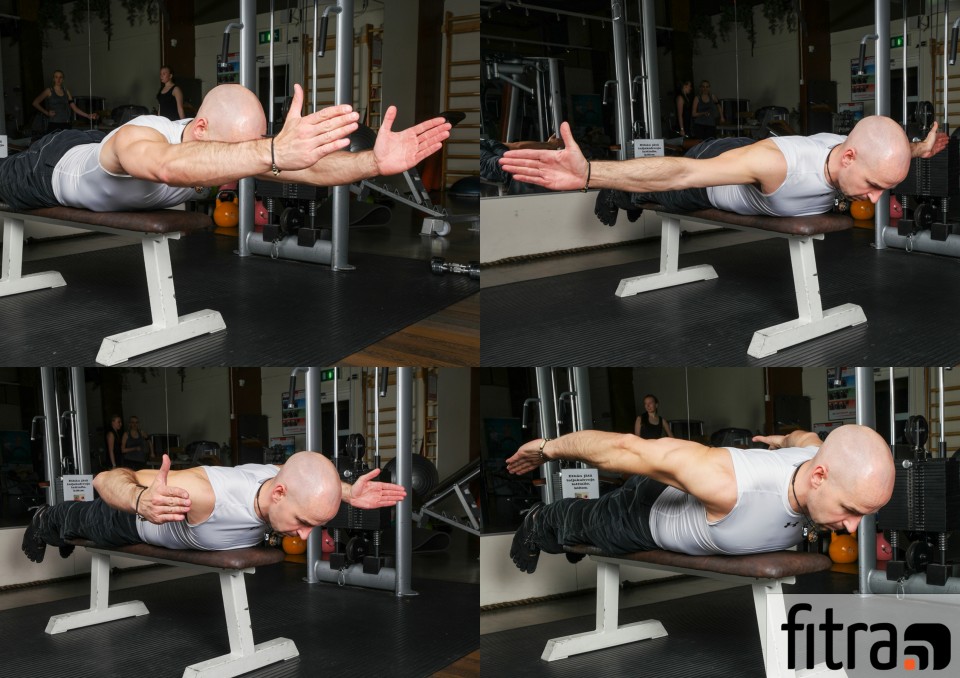 SYKE for trainers
SYKE helps coaches produce effective, high-quality and diverse coaching content, whether it is individual training programs or multidimensional online coaching.
SYKE for consumers
There's no training program or coach that is perfect for everyone. In the constantly changing trends and fads, we want to help you find the way that suits YOU best.