Askelkyykky käsipainoilla
Ota lantion levyinen haara-asento ja pidä katse suoraan eteenpäin.
Astu reilu askel eteen (hieman sivulle keskilinjasta), laskeudu suoraan alas ja ponnista takaisin ylös. Polvi taipuu suorassa linjassa jalkaterän kanssa.
HUOM! Askelkyykky on erittäin kokonaisvaltainen harjoite alavartalolle. Siinä aktivoituvat pakara- ja reisilihasten lisäksi myös lonkan, polven sekä nilkan linjauksesta huolehtivat lihasryhmät. Mitä pidempi askel on, sen voimakkaammin pakaran sekä takareiden lihakset aktivoituvat. Lyhyt liike aktivoi tehokkaammin reiden etuosaa. Korokkeelle astuttaessa pakaran sekä takareiden venytys ja aktivoituminen tehostuvat.
Mikäli sinun on vaikeaa säilyttää tasapainosi, voit lisätä tukipintaa astumalla askeleen viistosti hieman sivulle.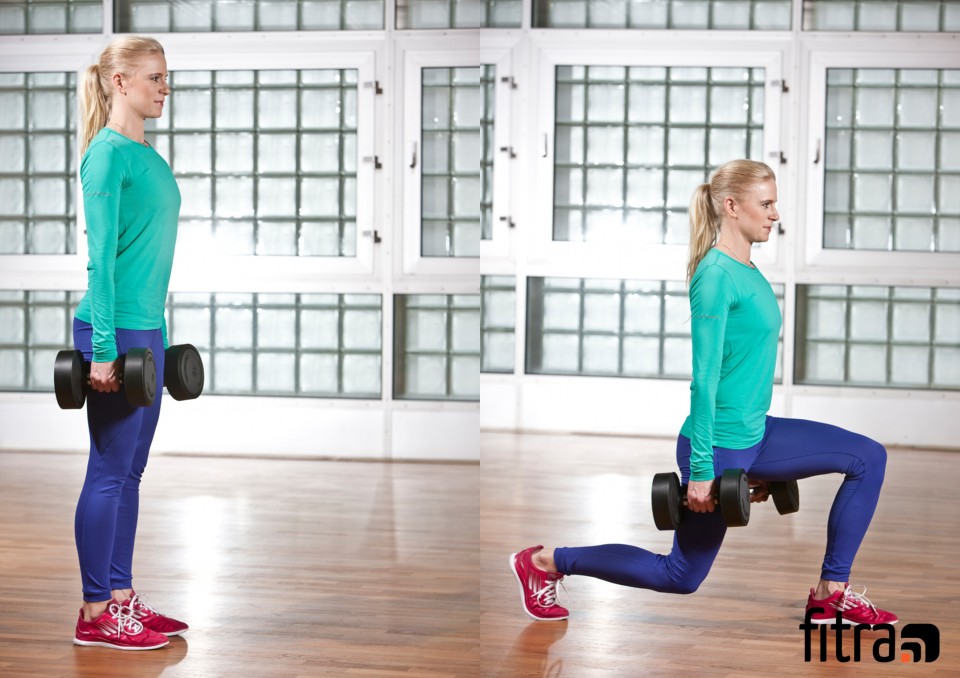 SYKE for trainers
SYKE helps coaches produce effective, high-quality and diverse coaching content, whether it is individual training programs or multidimensional online coaching.
SYKE for consumers
There's no training program or coach that is perfect for everyone. In the constantly changing trends and fads, we want to help you find the way that suits YOU best.