Jalkakyykky Smith-laitteessa
Asetu seisomaan kiskopunnerruslaitteeseen tanko niskasi takana ja jalat hartioiden levyisessä haara-asennossa hieman tankolinjan etupuolella.
Vapauta laitteen tanko hieman jalkoja suoristamalla sekä ranteita kääntämällä. Pidä jalkaterät suoraan eteenpäin tai hiukan ulospäin ja katse suoraan eteenpäin.
Laskeudu selkä suorana kyykkyyn niin, että reitesi ovat lattian kanssa samansuuntaiset. Ojentaudu reisi- ja pakaralihaksien voimalla takaisin pystyasentoon. Polvet taipuvat jalkaterien suuntaisesti ja kantapäät kiinni alustassa koko liikkeen ajan.
HUOM! Smith-kyykyssä ylävartalo ei pääse kallistumaan eteen-taakse-suunnassa, jolloin pakaran venytysvaikutus sekä aktivoituminen jäävät vapaalla tangolla tehtävää kyykkyliikettä heikommaksi.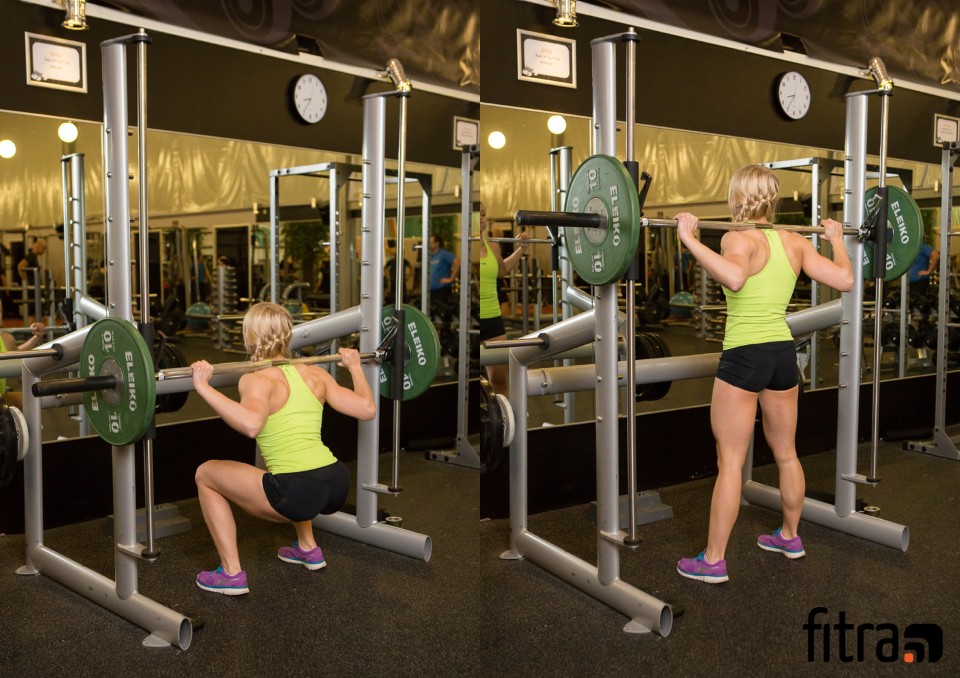 SYKE for trainers
SYKE helps coaches produce effective, high-quality and diverse coaching content, whether it is individual training programs or multidimensional online coaching.
SYKE for consumers
There's no training program or coach that is perfect for everyone. In the constantly changing trends and fads, we want to help you find the way that suits YOU best.